Welcome to the 2018 Lucknow Strawberry Summerfest!
WHAT'S HAPPENING? ...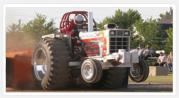 19th Annual
Dungannon Super Pull
Saturday, June 16th at 4:00 pm, enjoy the mammoth Tractor Super Pull at the Dungannon Fairgrounds
Click HERE for more info.
Saturday, June 23rd
Strawberry Pancake Breakfast
Kids Play Zone
Summerfest Free Swim
Summerfest Colouring Contest
Soccer Championship Games
... and much more ...

CLICK for a complete list of events, dates and times.